6S Gold Shaking Table is one of the main equipments of gravity concentration applied on separating Gold, Silver, Tin, Columbium, Tantalum, Titanium, Barium, Tungsten, Iron, Chrome, Manganese, Zircon, Lead, Zinc, Mercury, Copper, Aluminum, Niobium , other rare metals & the noble metal ore.
Bed surface of shaker table
1) Bed material :
Fiberglass
material is the most commonly used material
FRP bed surface has high rigidity and strength, resists chemical corrosion, acid and alkali, does not avoid chemicals in ore pulp, wear-resistant and corrosion-resistant, stable in shape, and does not dry and crack.
They are also Iron, wood, plastic, rubber, lacquer ash material
2)Working principle - Ore particles on the shaking table bed surface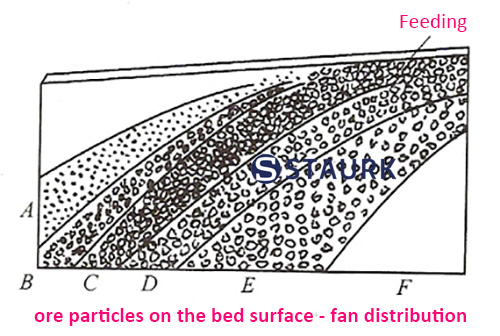 A concentrate B middling I C middling II D lean middling E tailing F overflow and slime
3) Bed Model
For number slots or grooves, has
Model 46 , 50 , 60 , 88 , 110 , 120 , 135 , 138 , 150 etc.

4) Good sorting performance, stable index and excellent sorting
Concentrates, tailings, and middle mining can be obtained from the raw ore through
only one separation
process
5) left and right bed :