The mining thickener is mainly composed of working bridge (including railing, walkway board), transmission device, steady flow cylinder, transmission shaft, tie rod, small scraper, scraper, scraper arm, thickening grid and other components.
The mining thickener is driven by the central transmission device to rotate the transmission shaft, scraper arm, etc. The scraper on the scraper arm gradually scrapes the sludge from the edge of the pool to the mud pit in the pool, and discharges it out of the pool through the sludge discharge pipe. The grid bars provide a sedimentation space for the flocculent sludge when rotating, which accelerates the descending of the sludge and improves the concentration effect.
8. Controlled by PLC programmable controller, reserved centralized control interface, can participate in centralized control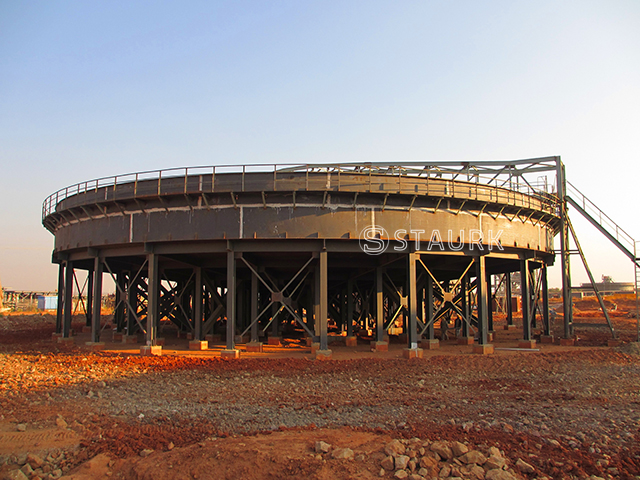 NZS-10 Structure description
(1) The working bridge is assembled and welded by I-beam and several angle steels, with a walkway slab on the top, and railings on both sides, which are assembled on the tooling platform. The design and manufacture of the working bridge is firm and the appearance is beautiful.
(2) The transmission main shaft is made of thick-walled seamless steel pipe, and its verticality is less than 2mm/Lmm (the length of the shaft).
(3) Concentration grids are set on the scraper arm, the height of the grids is set according to the water level in the pool and the height of the sludge layer, and the grid spacing is about 400mm.
⑷ The steady flow cylinder is made of plate, and the upper end is provided with a circular arc reinforcement ring made of steel plate to strengthen it, so that it has a certain strength and is not easy to deform.
⑸The transmission device is composed of a cycloidal pinwheel reducer and a worm gear, with reliable operation and low noise. (D≤14m)
⑹ The lifting device adopts manual lifting device, the lifting height is less than or equal to 200mm, the structure is simple, the operation is labor-saving, and the lifting is stable and reliable.
⑺This machine is equipped with mechanical and electrical double overload protection device.
(8)
Electrical control system
The on-site control box is installed on the concentrator. The field control box has the function of local operation.
The operation panel is equipped with start and stop buttons, running, shutdown, accident signal lights, and emergency stop buttons. There is a motor protector in the electric control box. The protection level of the electric control box is IP55.