Metal crusher video
Scrap metal before and after crusher
Working principle of Metal steel scrap crusher
The crushing production line uses the principle of hammering. Driven by the high-speed and high torque motor, the hammers on the rotor of the main machine strike the materials to be broken in turn and enter into the chamber. Through the space formed between the lining plate and the hammerhead, the materials to be broken are torn into the qualified materials. Then under the action of the magnetic equipment, the materials with high purity can be obtained.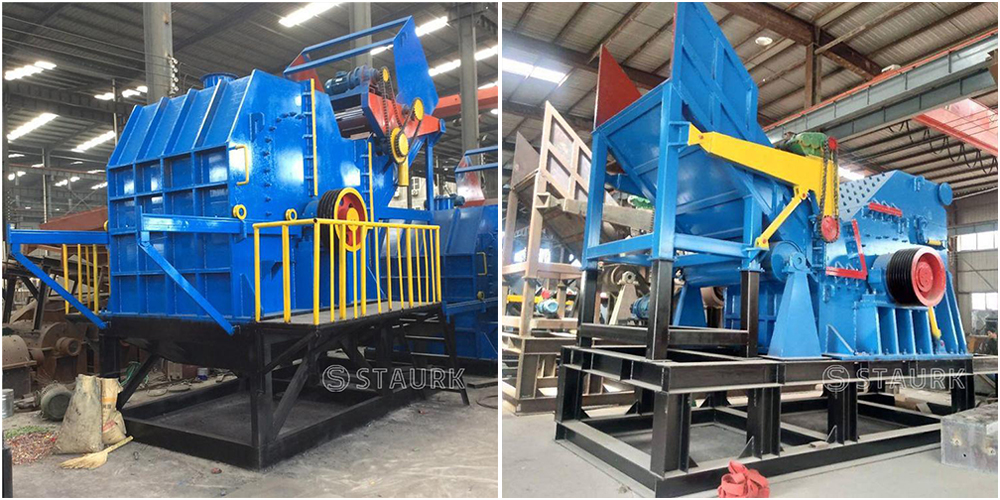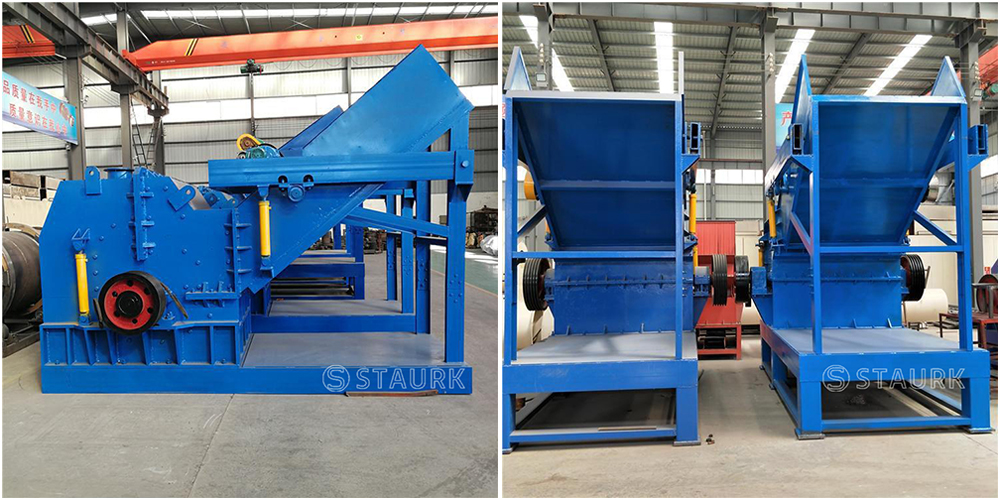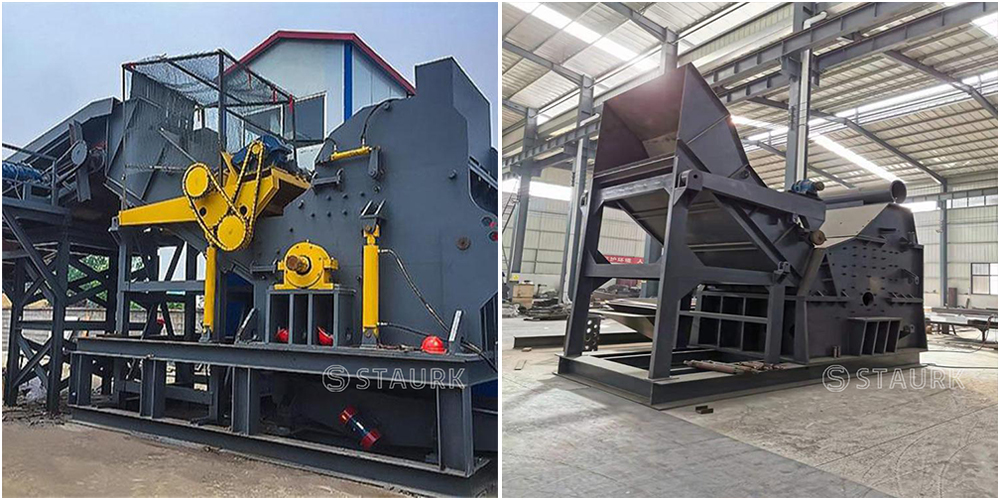 Application of Metal steel scrap crusher
1. Metal steel , metal aluminum , scrap metal , waste car body (excluding engine, gearbox, tire, etc.);
3. Iron sheet for household electrical appliances (excluding motors, compressors, shafts, etc.)
4. Light and thin materials and similar domestic wastes
5. Empty tank (wash out thinner, paint, etc.), unsealed tank.
Note: after preliminary processing, the shape and volume of all the processed materials should be able to enter the main machine feed port smoothly( For example, pop can, small paint bucket, color steel tile, car shell, etc.)
Not suitable:Dangerous goods:
a. Sealed containers, conduits, etc;
b. Articles that may cause explosion, fire, etc;
a. Subject other than passenger car;
b. Engine, converter, differential gear, tire;
Parameter of the Metal crusher
Main machine - metal crusher

Model
800
1000
1300
1600
1800
2000
Power
37-45kw
55-75kw
75-90kw*2
110-132kw*2
132-220kw*2
220kw*2
Capacity(t/h)
0.9-1.1
1.5-2
2-4
4-6
6-10
10-14
Dimension(mm)
2600*1800*2600
2800*1900*3000
3300*2000*3500
3600*2300*3800
3800*2600*4000
4000*3200*4200
Pannel electric
include
include
include
include
include
include

Feed conveyor - convey metal into metal crusher

Feed conveyor belt
0.6m*6m
0.8m*8m
1.2m*10m
1.5m*12m
1.6m*12m
1.8m*12m
Power
3kw
5.5kw
7.5kw
11kw
11kw
11kw

Output conveyor - convey crushed metal

output conveyor belt
0.6m*4m
0.6m*6m
0.6m*6m 2sets
0.6m*6m 2sets
0.8m*6m 2sets
0.8m*6m 2sets
Power
3kw
3kw
3kw*2
3kw*2
3kw*2
3kw*2

Separate and convey crushed magnetic metal(includeing megtic)

sort & conveyor
0.6m*4m
0.6m*6m
0.6m*6m
0.6m*6m
0.6m*6m
0.6m*6m
power
3kw
3kw
3kw
3kw
3kw
3kw

Dust removal system - protect the environment

Dust removal system
Fan
Fan
Fan
Fan / Pulse
Fan / Pulse
Fan / Pulse
Introduction to Metal steel scrap crusher
1. Include the following equipment scope content:
(1) Feeding conveyor: 1 set
(2) Main machine of crusher line: 1 set
(3) Discharge belt conveyor: 1 set
(4) Non-magnetic discharge belt conveyor: 1 set
(5) Belt conveyor for metal material discharge: 1 set
2. Including the following supporting systems
(1) Control of power distribution cabinet
(3) Expected discharge system