Structure features
1.The drum is made of high-quality steel plate, and the rotating part is a thick-walled rolling ring, which is machined by special equipment, and its shape tolerance and operating conditions can guarantee the use function.
2.The rotating body rotates smoothly, the speed is stable, the noise is low, the gears mesh well, the feeding and unloading devices work well, and there is no material leakage and drop.
3.The connection is firm, and the welding gap is even and smooth.
4.The sieve plate is made of high-quality structural steel plate with a thickness of 10mm, and the aperture can be adjusted according to the material condition and process requirements.
5.The framework adopts the overall welded structure of section steel, and the connection between the sieve plate and the drum framework adopts a bolt connection structure, which has the advantages of long life and good rigidity.
Application
It is suitable for sorting and screening all kinds of solid garbage such as construction waste, aged garbage, household waste, and decoration garbage etc.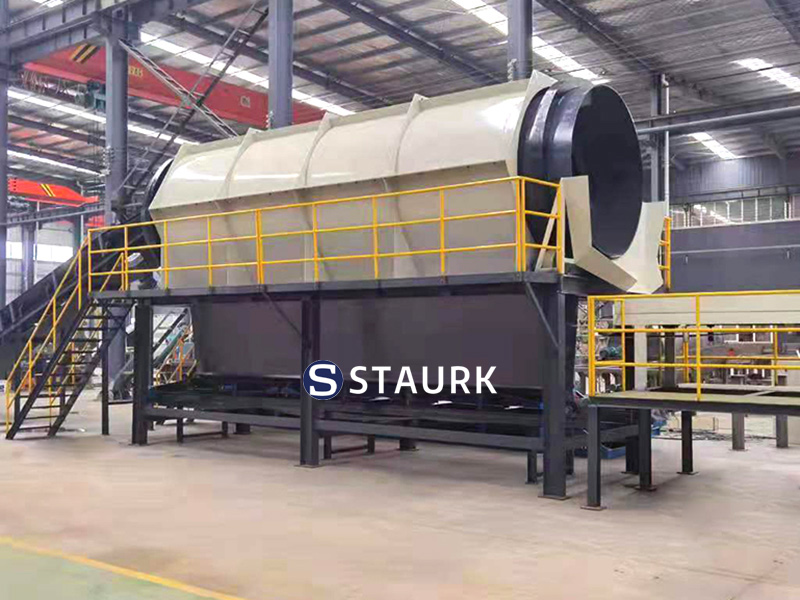 Parameter of the Garbage sorting screen trommel
Model
Capacity
(t/h)
Power
(kw)
Diameter
(mm)
Length
(mm)
Discharge
(mm)
Input
(mm)
Dimension
(mm)
GTS1015
50
3
1000
1500
0-100
≤300
2600×1400×1700
GTS1020
100
4
1000
2000
0-100
≤300
3390×1400×2140
GTS1225
160
5.5
1200
2500
0-100
≤300
4146×1600×2680
GTS1530
250
7.5
1500
3000
0-100
≤300
4460×1900×2820
GTS1545
350
11
1500
4500
0-100
≤400
5960×1900×3080
GTS1848
450
15
1800
4800
0-100
≤400
6500×2350×4000
GTS2055
600
22
2000
5500
0-100
≤400
7500×2550×4800
GTS2265
800
30
2200
6500
0-100
≤400
8500×2750×5000
Where Does the Garbage Go After Sorting Most of the garbage:
Plastic:
can be reprocessed by plastic pyrolysis machine to get plastic oil and carbon black, then get diesel by crude oil distillation unit; can be pelletized into plastic pellets by plastic pelletizing machine;
Metal:
can be used to produce steel materials;
Organic:
can get biogas from fermentation system;
Biomass wastes like straws, wood, sewage sludge, etc.: can be carbonized to get charcoals by charcoal making machine;
Brickbats and stones:
can be briquetted into new bricks for construction use.
FAQ
Question 1: What's the delivery time after I pay the deposit ?
Answer: We will delivery the goods within 10-15 working days after receipt of the prepayment.
Question 2: How long of your machine quality guarantee terms ?
Answer: Quality guarantee time is one year(wearing parts excluded).